(N-DL/0224/7/0001(MQA/PA15768) 07/27)
The Postgraduate in Islamic Studies (PGDIS) is designed to provide advanced knowledge of Islam as a religion and a way of life, understanding of how scholars of Islamic Studies analyse and solve issues in society. In addition to improving understanding of the classical sources (turath), the program aims to produce graduates with the professional skills and abilities judged appropriate or necessary in a particular profession or industry of employment.
Programme Facts
Language of instruction: Bahasa Kebangsaan & Bahasa Inggeris
Mode of study : Part-time (Separuh Masa)
Mode of delivery:
Self-Managed Learning
Online Learning
Face-to-face Sessions
Method of delivery: Open and Distance Learning (ODL)
Duration: 1 Year (3 semesters)
Credit hours to complete: 30 Credits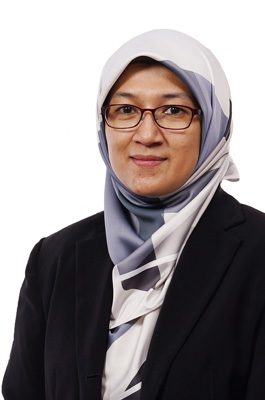 Dr Hamidah Mat
Programme Director
Tel (Office) :
603 78012184
Tel (Mobile):
6017 2360438
Email :
hamidah_mat@oum.edu.my
Malaysian Learner Fees
| | |
| --- | --- |
| | Year 1 |
| Sem 1 | RM3,080 |
| Sem 2 | RM3,080 |
| Sem 3 | RM3,080 |
| Total | RM9,240 |
* Fees applicable to Malaysians and Permanent Residents only.
* The University reserves the right to revise the fees without prior notice.
Discount for the Physically Challenged Learners (OKU) and Senior Citizens
The University offers 50% discount for:
1. Senior citizens aged 60 and above on registration date; and
2. Physically challenged learners – a valid Orang Kelainan Upaya (OKU) ID is required.
The discounts are not valid for second time registration and repeating of subjects.
Learners who receive this discount are not entitled to other discounts and promotions.

Note
Processing fee: RM50
| | |
| --- | --- |
| Financial options: | Payment Mode: |
| EPF (Account 2); or | JomPAY |
| Education or Personal Loan from commercial banks; or | Internet Banking |
| HRDF (subject to employer's eligibility); or | Debit/Credit Card. |
International Learner Fees

| | |
| --- | --- |
| | Year 1 |
| Sem 1 | RM3,700 |
| Sem 2 | RM3,700 |
| Sem 3 | RM3,700 |
| Total | RM 11,100 |
Notes:
1 – Fees applicable to International applicants
2 – The fee above excludes registration fee, processing fee and resource fee. Fee imposed first semester only-non refundable . (Diploma RM2,700; Bachelor RM3,200, Master RM3,700, PhD/Doctorate RM4,200).
3 – Financial method: Telegraphic Transfer , PayPal (Invoice will be prepared in MYR and will be added 6% to cover PayPal transaction fees.)
4 – The fees are for subject fees only and are not applicable for research, registration, repeating of subjects and other fees.
5 – 60% payment of the semester fees must be made before the semester starts, 40% payment before the examination week.
* The University reserves the right to revise the fees without prior notice.
**LATEST UPDATE: 30 August 2022
Normal Entry
A Bachelor's degree in Islamic Studies or in other fields provided that Islamic Studies courses feature as a minor in the programme or an equivalent qualification. Discretion may also be accorded to cases where Islamic Studies courses are taken as electives, but are as substantial as a minor in total; OR
Other equivalent qualifications recognized by the Malaysian Government.
OR
APEL A Entry
Possess an APEL.A certificate from MQA for admission into Master's programmes.
For more information, please click here
Program Educational Objectives (PEO)
This programme aims to produce graduates that are:
PEO 1: Knowledgeable and competent in Islamic studies discipline in line with industry requirement.
PEO 2: Effective communication and demonstrate good leadership quality in an organization.
PEO 3: Capable to solve community problems innovatively, creatively and ethically through sustainable approach.
PEO 4: Able to demonstrate entrepreneurship skills and recognize the need of lifelong learning for successful career development.
Programme Learning Outcomes (PLO)

Upon completion of the programme, graduates will be able to:
PLO
MQF LO
PLO 1:
Critically synthesise and evaluate current knowledge and those emerging from research that are related to Islamic studies discipline and deal with related classical sources (turath).
Knowledge and Understanding
PLO 2:
Design and develop studies or research creatively to address Islamic studies issues, demonstrating mastery of knowledge, incorporating state of the art analytical, numerical and digital techniques.
Cognitive Skills, Digital Skills & Numeracy skills
PLO 3:
Organise and design outcomes-based research employing advanced techniques, including digital technology to enhance the body of knowledge and practices in Islamic studies.
Practical skills & Digital Skills
PLO 4:
Adapt suitable leadership styles and balance autonomy with responsibility in emerging and dynamic Islamic studies settings.
Leadership, autonomy & responsibility
PLO 5:
Adapt to situations when delivering task either individually or through multidisciplinary teams with good communication and interpersonal skills in Islamic studies research settings.
Interpersonal skills & communication skills
PLO 6:
Uphold and defend professionalism and ethics to fulfil research standards in ensuring the integrity of the profession at all times.
Ethics & professionalism
PLO 7:
Advocate positive attitude and commitment to life-long learning with entrepreneurial mind-set in response to the changing world of Islamic studies and for professional advancement.
Personal skills & entrepreneurial skills
Year
Semester
Code & Course Name

Credit Hour

Category

1

1

APPU7113 Pengenalan Kepada Usuludin

3

Core

APPS7123 Pengenalan Kepada Syariah

3

Core

APTF7134 Tamadun dan Falsafah Pemikiran Islam

4

Core

2

APUQ7143 Ulum al-Quran

3

Core

APUH7153 Ulum al-Hadith

3

Core

APPA7164 Perbandingan Agama

4

Core

3

APKT7173 Kajian Teks dalam Bahasa Arab

3

Core

APDK7183 Dakwah Kontemporari

3

Core

APFK7194 Fiqh Kontemporari

4

Core

TOTAL CREDIT HOURS

30
Question 1
What is PGDIS?
Answer: PGDIS stands for Post Graduate Diploma in Islamic Studies, which is available to anyone interested in learning more about Islamic studies. This program provides an opportunity to learn about essential fields of Islam, such as Syariah, Usuludin, al-Quran & al-Sunah, and Islamic Civilization.

Question 2
What is PGDIS entry requirement?
Answer: Candidate should have a bachelor's degree in Islamic Studies from an accredited university and recognized by the Malaysian Qualification Agency (MQA).
Through APEL entry, the program also accept bachelor degree holder in any fields or diploma holder with related experiences.

Question 3
How long is the PGDIS study duration?
Answer: It is one year programme of studies.

Question 4
What is the medium of instruction of the programme?
Answer: The medium of instruction is in Bahasa Kebangsaan and Bahasa Inggeris.
Question 5
When is PGDIS intake?
Answer: January or May or September intake.
Question 6
How much are PGDIS fees?
Answer: Kindly refer to the OUM portal. The fees will subject to OUM policy. You can make partial payment and need to settle the balance payment before the final examination in each semester.
Question 7
Can I apply as a student using my working experience?
Answer: Yes
Question 8
What is the assessment structure in this program?
Answer: Coursework (Assigment) & Final Examination
Question 9
How do the courses in PGDIS conduct?
Answer: It is blended learning (face-to-face tutorials, online or e-tutorial learning support and self-managed learning).
Question 10
Who can I contact for further enquiries regarding the PGDIS programme?
Academic Matters
Dr Hamidah Mat


Programme Director

Tel (Office) :
603 78012184Tel (Mobile):
6017 2360438Email : hamidah_mat@oum.edu.my
Marketing Department
Marketing Department +603-7801 2000 (Speed Line)
+6012-303 9935 / +6019-357 9074
admission@oum.edu.my
(Enquiries for New Intake & Registration Only)
Malaysian Learner Fees

| | |
| --- | --- |
| | Year 1 |
| Sem 1 | RM3,080 |
| Sem 2 | RM3,080 |
| Sem 3 | RM3,080 |
| Total | RM9,240 |

* Fees applicable to Malaysians and Permanent Residents only.
* The University reserves the right to revise the fees without prior notice.

Discount for the Physically Challenged Learners (OKU) and Senior Citizens

The University offers 50% discount for:
1. Senior citizens aged 60 and above on registration date; and
2. Physically challenged learners – a valid Orang Kelainan Upaya (OKU) ID is required.
The discounts are not valid for second time registration and repeating of subjects.
Learners who receive this discount are not entitled to other discounts and promotions.


Note
Processing fee: RM50

| | |
| --- | --- |
| Financial options: | Payment Mode: |
| EPF (Account 2); or | JomPAY |
| Education or Personal Loan from commercial banks; or | Internet Banking |
| HRDF (subject to employer's eligibility); or | Debit/Credit Card. |

International Learner Fees


| | |
| --- | --- |
| | Year 1 |
| Sem 1 | RM3,700 |
| Sem 2 | RM3,700 |
| Sem 3 | RM3,700 |
| Total | RM 11,100 |

Notes:
1 – Fees applicable to International applicants
2 – The fee above excludes registration fee, processing fee and resource fee. Fee imposed first semester only-non refundable . (Diploma RM2,700; Bachelor RM3,200, Master RM3,700, PhD/Doctorate RM4,200).
3 – Financial method: Telegraphic Transfer , PayPal (Invoice will be prepared in MYR and will be added 6% to cover PayPal transaction fees.)
4 – The fees are for subject fees only and are not applicable for research, registration, repeating of subjects and other fees.
5 – 60% payment of the semester fees must be made before the semester starts, 40% payment before the examination week.

* The University reserves the right to revise the fees without prior notice.
**LATEST UPDATE: 30 August 2022

Normal Entry

A Bachelor's degree in Islamic Studies or in other fields provided that Islamic Studies courses feature as a minor in the programme or an equivalent qualification. Discretion may also be accorded to cases where Islamic Studies courses are taken as electives, but are as substantial as a minor in total; OR
Other equivalent qualifications recognized by the Malaysian Government.

OR

APEL A Entry

Possess an APEL.A certificate from MQA for admission into Master's programmes.
For more information, please click here

Program Educational Objectives (PEO)

This programme aims to produce graduates that are:

PEO 1: Knowledgeable and competent in Islamic studies discipline in line with industry requirement.

PEO 2: Effective communication and demonstrate good leadership quality in an organization.

PEO 3: Capable to solve community problems innovatively, creatively and ethically through sustainable approach.

PEO 4: Able to demonstrate entrepreneurship skills and recognize the need of lifelong learning for successful career development.

Programme Learning Outcomes (PLO)


Upon completion of the programme, graduates will be able to:

PLO
MQF LO
PLO 1:
Critically synthesise and evaluate current knowledge and those emerging from research that are related to Islamic studies discipline and deal with related classical sources (turath).
Knowledge and Understanding
PLO 2:
Design and develop studies or research creatively to address Islamic studies issues, demonstrating mastery of knowledge, incorporating state of the art analytical, numerical and digital techniques.
Cognitive Skills, Digital Skills & Numeracy skills
PLO 3:
Organise and design outcomes-based research employing advanced techniques, including digital technology to enhance the body of knowledge and practices in Islamic studies.
Practical skills & Digital Skills
PLO 4:
Adapt suitable leadership styles and balance autonomy with responsibility in emerging and dynamic Islamic studies settings.
Leadership, autonomy & responsibility
PLO 5:
Adapt to situations when delivering task either individually or through multidisciplinary teams with good communication and interpersonal skills in Islamic studies research settings.
Interpersonal skills & communication skills
PLO 6:
Uphold and defend professionalism and ethics to fulfil research standards in ensuring the integrity of the profession at all times.
Ethics & professionalism
PLO 7:
Advocate positive attitude and commitment to life-long learning with entrepreneurial mind-set in response to the changing world of Islamic studies and for professional advancement.
Personal skills & entrepreneurial skills

Year
Semester
Code & Course Name

Credit Hour

Category

1

1

APPU7113 Pengenalan Kepada Usuludin

3

Core

APPS7123 Pengenalan Kepada Syariah

3

Core

APTF7134 Tamadun dan Falsafah Pemikiran Islam

4

Core

2

APUQ7143 Ulum al-Quran

3

Core

APUH7153 Ulum al-Hadith

3

Core

APPA7164 Perbandingan Agama

4

Core

3

APKT7173 Kajian Teks dalam Bahasa Arab

3

Core

APDK7183 Dakwah Kontemporari

3

Core

APFK7194 Fiqh Kontemporari

4

Core

TOTAL CREDIT HOURS

30

Question 1
What is PGDIS?
Answer: PGDIS stands for Post Graduate Diploma in Islamic Studies, which is available to anyone interested in learning more about Islamic studies. This program provides an opportunity to learn about essential fields of Islam, such as Syariah, Usuludin, al-Quran & al-Sunah, and Islamic Civilization.


Question 2
What is PGDIS entry requirement?
Answer: Candidate should have a bachelor's degree in Islamic Studies from an accredited university and recognized by the Malaysian Qualification Agency (MQA).

Through APEL entry, the program also accept bachelor degree holder in any fields or diploma holder with related experiences.


Question 3
How long is the PGDIS study duration?
Answer: It is one year programme of studies.


Question 4
What is the medium of instruction of the programme?
Answer: The medium of instruction is in Bahasa Kebangsaan and Bahasa Inggeris.

Question 5
When is PGDIS intake?
Answer: January or May or September intake.

Question 6
How much are PGDIS fees?
Answer: Kindly refer to the OUM portal. The fees will subject to OUM policy. You can make partial payment and need to settle the balance payment before the final examination in each semester.

Question 7
Can I apply as a student using my working experience?
Answer: Yes

Question 8
What is the assessment structure in this program?
Answer: Coursework (Assigment) & Final Examination

Question 9
How do the courses in PGDIS conduct?
Answer: It is blended learning (face-to-face tutorials, online or e-tutorial learning support and self-managed learning).

Question 10
Who can I contact for further enquiries regarding the PGDIS programme?

Academic Matters
Dr Hamidah Mat


Programme Director

Tel (Office) :
603 78012184Tel (Mobile):
6017 2360438Email : hamidah_mat@oum.edu.my
Marketing Department
Marketing Department +603-7801 2000 (Speed Line)
+6012-303 9935 / +6019-357 9074
admission@oum.edu.my
(Enquiries for New Intake & Registration Only)