With a new Memorandum of Understanding (MoU) with the Malaysian Army, OUM is paving the way for more members of the armed forces to enjoy the perks of flexible study at the University. The handover ceremony of the MoU took place at Wisma Perwira ATM on 18 October.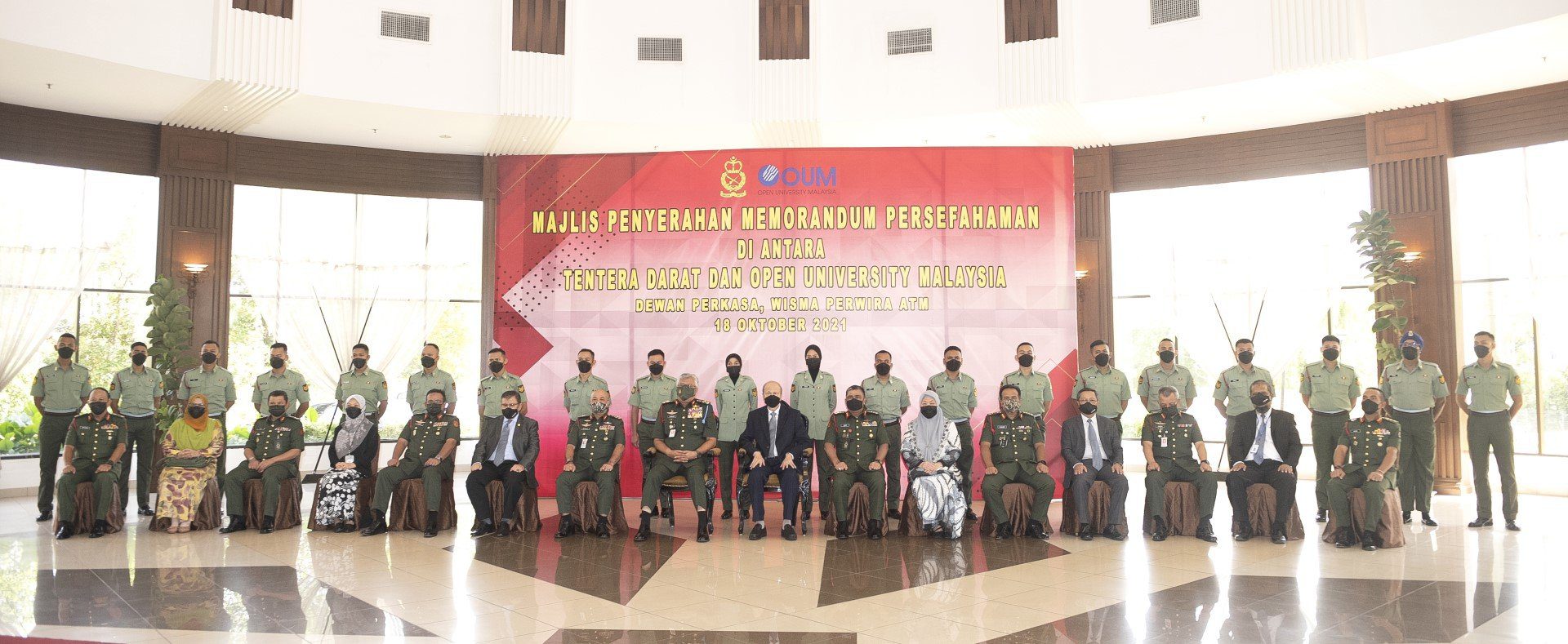 Inked on 2 August 2021, the MoU will give officers and personnel from the Royal Signals Regiment a chance to improve their academic qualifications by enrolling in the Bachelor of Information Technology (BIT) programme.
The official handover was carried out by Chief of Army General Tan Sri Datuk Zamrose Mohd Zain and Chairman of the OUM Board of Governors Tan Sri Lee Lam Thye.
In his speech, Tan Sri Zamrose emphasised that the agreement is part of the initiatives by the Malaysian Army to upskill and enhance competencies of its armed forces personnel specifically in the area of information technology. It is also in line with the continuous efforts and commitment to ensure that its officers possess high technical competency and expertise.
This collaboration has opened the door for the first batch of 20 learners who already possess a diploma in IT to pursue their studies in the 32-month bachelor's degree programme. Teaching and learning activities will be conducted at both Institut Komunikasi dan Elektronik Tentera Darat (IKED) and OUM Learning Centre.
The primary responsibilities of IKED are to train the Army Signals Squadron and administer courses particularly for officers and non-commissioned officers as required by the Malaysian Army.
This is not a new partnership between OUM and the Malaysian Army. Both institutions have already enjoyed a successful working relationship, beginning with the first MoU signing in 2004. Over the last 15 years or so, 460 army officers have successfully graduated from  the Diploma in IT programme.
Also present at the ceremony were Deputy Chief of Army Lieutenant General Dato' Mohammad Ab Rahman, Vice President (Academic) Prof Dr Widad Othman, and General Manager (Business Development and Support Service) Assoc Prof Dr Ahmad Izanee Awang.